Hunger Games Mockingjay T-Shirt
You will need:
A plain black (or whatever color you want) T-shirt
A towel that can get paint on it
Straight pins
Scissors
Mod Podge (optional)
Waxed freezer paper (optional)
An exacto knife
Metallic spray paint in the shade of your choice
A print-out of this image:
And about an hour (with dry time)
We'll start with the optional part. I wanted my stencil to be a little more durable, usable more than once, so I mod-podged my print out of the Mockingjay image to a piece of waxed freezer paper, applying the mod podge over the top to seal it as well. This is totally not necessary, but I knew I would be doing multiple t-shirts and I thought this might help the stencil hold up longer (and, as is often the case, I was right). ;-)
Then I cut all the white away from my stencil print out, using scissors for the large areas and an exacto knife for the finer details.
I bet you can see where the rest of this is going (you smart cookies, you) but I will lay it out anyway.
Lay out the shirt someplace where you can paint (well-ventilated, people) and use the towel, folded, to create a flat pad in between the layers of the shirt. This is not only to prevent any paint from bleeding through (not likely, but just in case), but also to provide a cushion to push your pins into.
Use your straight pins to secure the more delicate parts of the Mockingjay stencil.
Spray! Lightly and from at least 10 inches away.
Give your shirt 15-20 minutes to dry before you remove the stencil, and another 40-45 minutes before you wear it. If you have time to wash it before wearing, then you won't go to the movies smelling like spray paint. Which is always nice. And, yes! These are totally washable. Just use the delicate cycle and dry on low heat or air dry. And then look fabulous! (See actual fabulousness below.)
I made this one with the dolman sleeves for me...
...and this classic long-sleeve scoop neck for my
bestie
(who is almost as much of a last-minute crafter geek as I am).
Now go to it!
Happy Hunger Games Day!
xo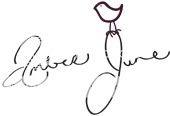 Give Thanks Banner
You will need:
*10 4.5" x 6.5" scrapbook cardstock, or any paper you like cut to that size
(I used DCWV's Indian Summer Fall Matstack)
*3 yards of ribbon, bias tape, twine, or rick rack
(I used vintage J&P medium rick-rack in black)
*craft glue
*scissors
*pinking shears
*an 8.5ish" x 5.5ish" book you don't mind cutting pages out of
(many libraries have 'discard' shelves where you can pick up old, deliciously yellowed and musty books for free)
*This template. Print out to 8.5" x 11" size:
Steps:
Cut out letters along dotted lines. Set aside.
Fold and cut your ten 4.5" x 6.5" cardstock papers like this:
(The bottom rectangle is what you cut off the top
of the original 4.5" x 6.5" page)
Edge the pieces with pinking shears. Set aside.
Using either an Exacto knife or a ruler and caution, tear 10 pages from your old book.
Arrange the pages, scrapbook paper squares, rectangle toppers, and letters in the order you want them. Try mixing up the tops, not matching them to the squares. Maybe choose pages from your book that have different font sizes, graphics or illustrations. It's up to you.
Once you have all your pieces laid out and your ribbon or rick-rack handy, assemble the banner (using small dots of craft glue and smoothing with you fingers as you go) like this:
Be sure to use glue between all three layers at the top of each piece, folding your 'topper' rectangle over the back of both book page and rick-rack.
Let the glue dry overnight before hanging your banner.
And Give Thanks for a project well done!
xo