Dear Blogland Beauties,
Two days ago, when I began writing this post on being a Mamma in the long days of winter, my perspective was skewed. I was tired. I was letting worries (no more than the common, everyday things) overwhelm me. But just as I was about to click 'publish', something changed. My sweet husband came home and kissed me. I heard our children in the other room playing wildly, but happily, together. And I looked up from my screen to the window to see the thin fingers of an orange sunset veiled by softly falling snow.
Two days ago, I was here: Breathing deeply and trying to remember that bitter winds and ugly winter muddy-slushiness are no one's fault, least of all my children's. And that if I'm tired, it's my own fault for staying up late, eating ice cream and watching Downton Abbey while wallowing in my own woes.
I don't know exactly how a kiss, a laugh, and a sunset changed me, but I do know that those small blessings came from one who knows me and knows my needs. I changed my attitude, looked outside myself and found humility in the knowledge that I am loved, and inspiration in the wisdom of so many of you in the blogosphere. What I read and felt gave me the strength to continue to be Mamma (the good version) through the long days of winter once again.
Here are a couple of links to posts I loved:
And eventually, spring will come again. I promise.
xo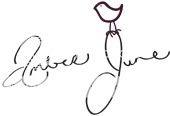 p.s. What do you think of the new blog look? The background = a little sneak peek on my soon-to-be-opened
Spoonflower
shop. So excited!