To school. For us, this time of year is not
back
to school time, because our children have never attended school a day in their lives. We have homeschooled for...well, eight years, since the day our oldest was born. We didn't think of ourselves as being homeschoolers at that point, but we always considered our parenting style to be present and attentive...never pacifying our children but identifying their needs and interests and helping them to learn from the world around them at every moment of every day. And that became our homeschool philosophy: Life is learning, learning is life. It was, and still is, our family's way. We didn't really call it homeschooling until about three years ago, but our children flourished. Learning to read naturally and at their own pace; discovering math in every room of our house, in every store, in every daily task. They found science in the backyard, the kitchen, the forest, and the night sky. And it is our hope and aim as parents to make sure they continue on this path of wonder and discovery. This fall, however, it will be, for the first time,
To School.
After much thought and prayer, days and weeks and months of quietly observing our children and trying to objectively determine what is best, at this point in their lives, for them, Brian and I have decided not to homeschool this year, but to send Laurelei and Riley to the public school most of their friends attend. Laurelei will be entering the third grade, and Riley-going only on a trial basis- will be a kindergartner.
My feelings are mixed. I am comforted knowing that we can, at any point, change our minds. And knowing the confident individuals we've raised our children to be. I am comforted knowing that public school and homeschool are only two of the many educational options we see in our family's future; that life will always be learning and learning, life. Travel, private schools, cultural immersion...these are all on the wish list. But for this year, my wish--my prayer is this: that Laurelei and Riley learn a little more about who they are, and that they can do it under the guidance of exceptional teachers. Teachers who know the difference between thinking and following instructions, important, logical rules and unnecessary ones, creativity and cut-and-paste.
My thoughts have turned lately--and I feel the need to put them into words--to the teachers who most shaped and influenced me in my formal education years. Three stand out; one more than all the rest. I'm sure there were others who tried, who meant well...but these three reached me, changed me in some way.
In junior high, there was Ms. Johnston, life science. I like science, but it wasn't her class that I remember...it was her class
room.
A place that, on lunch breaks and in free periods and after school became a safe haven for the under-confident, identity-seeking misfits like me. And it was that way because
she
was that way: a safe haven. She was one of the most sincere, accepting people I have ever known. I confided in her and she, always to an appropriate level, confided in me. Ms. Johnston taught me to look for friendship and goodness in unexpected places; to disbelieve stereotypes, and to believe a little more in me.
In high school, I took an advanced literature and composition class because, in a sea of mediocre educators and even more mediocre curricular choices, it was one of the very few things that interested me. I'd been given the English-nerd label early in life, but I had never, before that class, before Mrs. Black, considered myself a writer. In my mind, an understanding of grammar, an aptitude for clarity, and an ear for the rhythms and complexities of language were just...what everyone should have if they bothered to try. Mrs. Black was strict. She had high expectations. She was stoic and distant and our student-teacher relationship remained impersonal. But she always,
always
called on me (me!) to read my work out loud. If the assignment was a short story, she'd push me to develop it more on my own time. If my work was weak or sloppy, she'd demand a rewrite because she
knew
I had more in me and she wouldn't let me settle for second-best. From Mrs. Black I learned that I am a writer. And, no, that's
not
something everyone has in them. A few people yes, but through Mrs. Black I discovered it's something that's mine.
The third teacher, also from the high school years, is a name and a face and a person and a friend I will never forget.
I don't remember being quite so angst-y about it, but my dad tells me I came home from my first day of school as a sophomore despondent and distraught because the art class I'd registered for was full and I'd been stuck in Drama 1 instead. I lamented my fate in tears and begged him to use his influence (he was also a teacher, well-known and liked in the district) to get me what I wanted. I thought--and here's an example of the strong negative influence a
poor
teacher can have--I thought that I hated drama. I had hated it in junior high. (So it must be the subject, right? Couldn't possibly have been the embittered, unenthusiastic instructor...) Dad, probably inwardly laughing at my first-world teenage problems, encouraged me to give the class two weeks. If I still hated it then, he'd see what he could do.
That's how I met Kay. Mr. Jenkins, officially, but mostly he was Kay. Tall and thin as a bean pole, quiet when he wanted to be and boisterously loud among people he liked, his passion for
story
is what, I think, drew me in. I had that too. Was that drama? Theater? I didn't know. And he didn't know how prepared I was--in my timid, still under-confident way--to hate him and everything he taught. But I couldn't. He was just so animated...so excited, sometimes boyishly excited about sharing what he knew. More than that, and despite his frequent dramatic mutterings about juvenile delinquents, I think Kay saw beyond the system labels kids sometimes can't shake. I think he saw his students as human beings who could, if they chose, become someone better. Someone no one had pegged them to be. Kay taught by demonstrating, raising curiosity and inspiring. The stark opposite of so many teachers whose classes I slept through daily, he was accessible and funny, knowledgeable and real. Plays transformed from scripted words to enactments of humanity, with history and humor and sadness and deep, ardent love. And the best part was that I--that everyone--could be someone else.
I never took a single art class in high school.
In Kay's classroom, and in my subsequent active participation in all things drama (yes, Dad, you were right), I learned to shed the label "shy." Kay was my favorite teacher, my after-school coach and mentor, my example. I learned to be a leader, to make decisions, and to be accountable for the choices I made--disappointment was an expression I learned to recognize in his eyes. But more often, I saw in them a light that burned through me: a fiery, father-like pride. Kay was the only adult, outside of my parents, I ever felt comfortable enough to argue with. He laughed with me, but never at me. He taught me in his imperfect way to use power tools, build sets, and handle deadlines and stress. And I learned in his stage makeup class the techniques I still use to apply my makeup today (sorry Mom).
At my high school graduation ceremony, Kay stood on stage reading the names as the graduates walked. I'd like to think, and maybe it's true, that his voice broke a little, and that big Adam's apple had to swallow hard when he came to mine. For my part, I know I smiled back at him through my tears and said my silent, grateful goodbyes to the teacher who had taught me, more than anything, to be me.
These are the people on my mind as I prepare to send my children, for the first time, to be under someone else's influence, taught someone else's thoughts and answers and views on life. I think about these three teachers who cared so I won't worry so much about the ones who really don't. And while they came into my life later in my school years, I can't help hoping a Ms. Johnston, or a Mrs. Black, or, especially, a Mr. Jenkins will, at some point, come into my children's lives. Sooner would be better, but it's never too late.
What teachers shaped your life? Do you remember them still? Share in the comments.
xo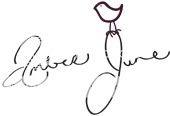 p.s. The quote graphic at the top of this post is a free printable. Just right click and it's yours. A little school inspiration to you from me.