Today I am thinking:
:: about how joining the YMCA two weeks ago is one of the smartest things Brian and I have ever done for our family. And not just because the showers there always have enough hot water that I can wash my hair and shave my legs (I don't have to choose like I do at home!), but for a lot of other reasons as well. The independence available to our kids within a safe environment, the sense of community, the active family time, and the fun classes...I could go on.
:: I can't believe my kids have developed, so quickly, into little rock climbers, scaling walls like Spiderman and ringing bells at the top of routes that I've seen adults struggle with (Mamma buttons busting here). They can't get enough and I love the trust relationship that has to exist between climber and belayer (usually me). There's a whole life metaphor there...
:: why didn't we do this sooner? We've always tried to be a healthy, active family, but we've also always let winter kind of get us down. It seems like such a 'duh' solution now, far more affordable than we'd expected, and worth twice what we pay.
:: how nice it is, when I'm feeling a little low, to say "Mamma needs endorphins, let's go play," and to have a
place
to go play, all together (family basketball, anyone?) or
individually,
each of getting a little space and a little attitude boost, so when we come back together again we're ready to be together, appreciating one another.
Today I'm thinking: I <3 our local YMCA.
xo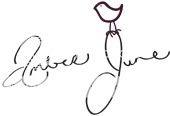 What does your family do to stay active and have fun?
Share your ideas in the comments!